Chicken Thighs Braised in Pickle Juice
Ever heard of putting pickle juice on chicken? You'll be surprised at how marvelous this dish tastes!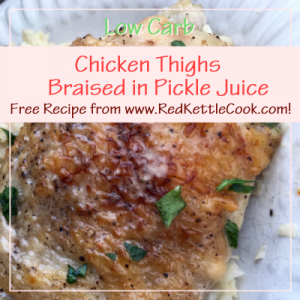 Ingredients:
Instructions:
In a large 12" oven-proof skillet with deep sides, heat one tablespoon extra virgin olive oil & minced garlic over medium-high heat for 1 to 2 minutes, stirring occasionally.
Season the chicken thighs with freshly ground black pepper (to taste). Working in batches, place 4 chicken thighs in hot skillet, skin side down & sear until the skin is golden brown and releases easily from the bottom of the skillet. Turn thighs & repeat on the other side.
Remove browned chicken thighs from skillet & keep warm. Add another tablespoon of olive oil to pan & repeat process with the remaining 4 chicken thighs.
Once all 8 chicken thighs are browned, return the first 4 thighs to the pan. Arrange thighs in a single layer & add the pickle juice and 1/2 cup chicken broth to the pan.
Bring liquid to a boil, then reduce heat to medium-low. Simmer for 25 to 30 minutes, then turn each thigh over with tongs & continue cooking another 30 minutes or until the meat is very tender. Once tender, remove chicken thighs from skillet to a separate platter. Cover and keep warm.
To make the pan sauce, add remaining cup of chicken broth to the first skillet and bring to a boil, then reduce heat to simmer. Scrape brown bits from bottom of pan with a wooden spoon & continue cooking until the sauce reduces by one half. Taste and season with additional salt & pepper (if desired).
Serve chicken thighs over a bed of cauliflower rice & drizzle with pan sauce. Garnish with chopped fresh parsley (if desired).