You can make this with convenience foods so that it does not take long before it is ready to eat. Or you can mix up your own flavorings to make it your own. Either way there is a burst of flavor with every bite!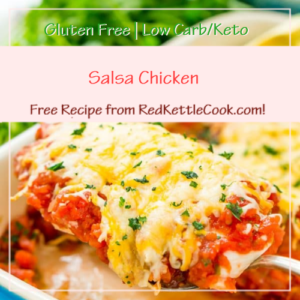 Ingredients:
4 chicken breasts, about 6 oz each
1 pack of taco seasoning mix (or make your own using )
1 16 oz jar of salsa (look from brand with 2 carbs per 2 T.)
1 c. shredded cheese of choice (I use a Mexican blend)
1 T. chopped cilantro as a garnish (optional)
Sour Cream as a condiment (optional)
Ingredients for the Chili Powder:
2 tsp. garlic salt
1 tsp. chili powder
1 tsp. cumin
1/4 tsp. red pepper flakes (optional)
Instructions:
Preheat oven to 375° degrees.
Pound Chicken Breasts to an even thickness.
Season chicken with taco seasoning mix.
Pour 1 c. of salsa into the bottom of a 9×14 baking dish.
Place chicken on top of salsa and pour remaining salsa on top of chicken.
Bake for 35 minutes or until chicken reaches an internal temperature of 165° degrees.
Sprinkle 1 c. of shredded cheese on the top of chicken. Then return to the oven & bake it for another 5 minutes.
Sprinkle with cilantro before serving.
*Nutrition Info:
Serving Size 1 Chicken Breast
Calories: 216
Fat: 11g
Net Carbs: 2
*All nutrition info is an estimate and intended for informational use only and is no guarantee that it is 100% accurate.
Note: This dish goes great with cauliflower rice. Make it yourself or grab a plain bag or a Mexican variation from your local store to serve as a low carb side.