Three ingredients? You bet! This recipe's so awesome & it takes just three ingredients to make it!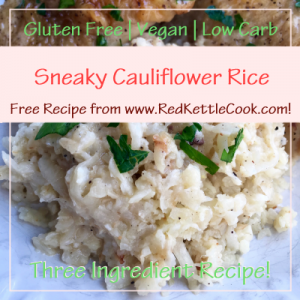 Ingredients:
Instructions:
Prepare the cauliflower "rice" by breaking the cauliflower into florets. Pulse florets in a food processor or grate by hand with a rectangular box grater to create rice-sized pieces.
Once grated, dry cauliflower "rice" thoroughly by placing on paper towels or clean kitchen towels. Press lightly with another layer of paper towels or clean kitchen towels to remove as much excess water as possible before cooking.
Heat 1 tablespoon olive oil in a medium skillet over medium heat before adding cauliflower. Cook for 1 to 2 minutes, stirring constantly. Reduce heat to low.
Cover & steam for approximately 5 minutes, or until cauliflower is tender.
Remove from heat & set aside.