Creamy Potato & Sausage Soup
This soup will warm you from the inside out! It is the addition of the sausage, to the potato soup base, that takes this over the top!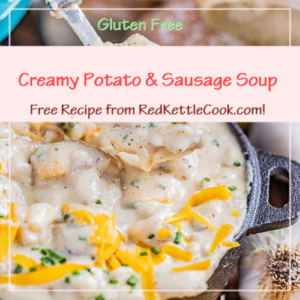 Ingredients:
1 lb. of your favorite sausage (Country Sausage, Polish Sausage, or bulk Italian Sausage)
1 Medium Onion, diced
2 T butter
4 cloves garlic, minced
4 c. chicken broth
2 c. Half & Half (or 1 c. milk & 1 c. heavy cream)
2 lbs. potatoes, diced
1 c. sour cream
1 tsp. salt (or to taste)
1/4 tsp. pepper
1/2 c. cheddar cheese, shredded (or your favorite cheese)
Instructions:
Heat a large soup pot over medium heat. Add in sausage & cook until browned, stirring occasionally. Use a slotted spoon to remove cooked sausage & set aside.
Return pot to medium-high heat. Add in onion & sauté 7 minutes, until the onion is soft & translucent. Add in butter & garlic, then stir until butter is melted.
Slowly pour in chicken broth with the Half & Half. Add in potatoes & bring to a simmer. Reduce the heat to medium-low & continue simmering until potatoes are soft & tender, about 15 minutes.
Once the potatoes are tender, gently mash them, but not too aggressively. You still want to have some texture & chunks of potatoes left in it. Stir in sour cream & add in the cooked sausage. Season with salt & pepper, to taste.
Serve hot topped with cheese & an additional dollop of sour cream.