It only takes three ingredients to make this healthy & delicious recipe! You'll love it so much you'll make it time & time again!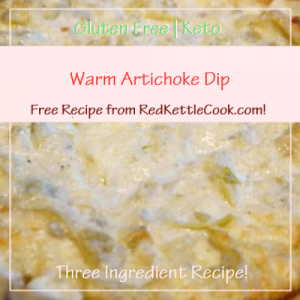 Ingredients:
1 can of organic artichokes, drained & chopped
1 c. mayonnaise
1 c. Parmesan cheese
Instructions:
Preheat oven to 375°F.
Mix all ingredients in an oven proof casserole dish.
Bake uncovered for 20 to 25 minutes or until it's bubbling.
Serve warm with gluten free crackers or a crusty bread (of your choice).