Vegetable Soup Made in an Instapot
Delectable? I think YES! Divine? I think YES! This soup can be adapted in so many different ways, depending on what vegetables you have on hand, or what veggies are in season!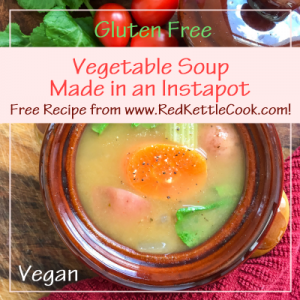 Serves 4 to 6
Ingredients:
1 T. extra virgin olive oil
4 large stalks celery, chopped
4 large carrots, sliced
1 medium red onion, chopped
1 tsp. garlic powder
1 tsp. chili powder
6 vegetable broth (organic if you can find/afford it)
1 lb. red potatoes, quartered
2 whole bay leaves
1 pint cherry or grape tomatoes, roughly chopped
2 c. baby kale, roughly chopped
2 T. fresh lime juice
Sea salt & black pepper, to taste
Instructions:
Add olive oil to Instapot and select the "Sauté" function. Add garlic, celery, carrots, red onion, garlic powder & chili powder. Season with salt and black pepper (to taste) and stir to combine.
Sauté, stirring occasionally, until fragrant & vegetables start to turn golden brown, approximately 4-5 minutes. Add broth & stir to combine. Be sure to scrape any brown bits off the bottom of the pot in the process. Turn the unit off.
Add potatoes, bay leaves & chopped tomatoes to the pot. Add lid and lock into place. Switch the vent to "Sealing" and set the "Manual" setting to 3 minutes.
When cook time is complete, allow pressure to release naturally for 10 minutes, then manually release any remaining pressure.
Remove lid and discard the bay leaves. Stir in baby kale and lime juice & season with additional salt and black pepper (if desired). Stir to combine & serve immediately.
Savor the flavors!