Sweet Cherry & Vegetable Summer Salad
The cherries in this recipe not only add a little sweet to the vegetables but they are a good source of the vitamins needed in a daily diet.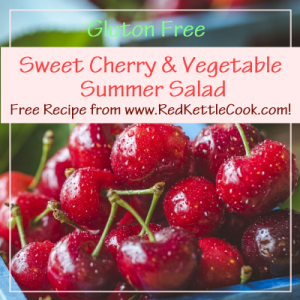 Ingredients:
Instructions:
Fill a medium saucepan with water. Place over high heat and bring to a rapid boil. Add the sugar snap peas & blanch 1 minute. Remove from heat & rinse with cold water to cool. Drain well.
Place the drained sugar snap peas in a large mixing bowl. Add the cherries, cucumbers & radishes & toss to combine.
In a separate bowl pour both vinegar's together. Add the sesame oil. Stir slightly to combine. Stir in the sesame seeds. Sprinkle in the pepper & stir well.
Pour over the top of the vegetables and cherries. Cover tightly & refrigerate 1 to 2 hours.
Stir to combine the flavors before serving.