Santa's Elves' Potato Delight
This dish isn't just for those in the North Pole! They're perfect as a side dish to just about any type of meat or fish that you're serving! Or you could add a protein to them, such as precooked chicken or ham, so that you only have to clean up one single dish!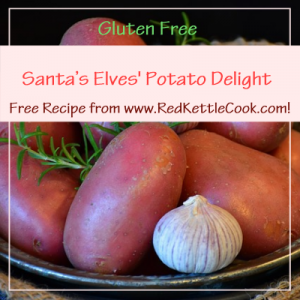 Ingredients:
8 red potatoes, sliced
2 large sweet onions, sliced
1/2 cup butter, sliced
1 cup shredded cheddar cheese
1/4 teaspoon garlic salt
Salt and pepper, to taste
Instructions:
In a large bowl mix sliced potatoes, sliced onions, butter and garlic salt together.
Add salt and pepper to taste.
Grease a large casserole dish.
Place potato  mixture in casserole.
Cover with aluminum foil.
Bake in preheated 350°F oven for 40 minutes, stirring occasionally.
Remove from oven and remove aluminum foil.
Sprinkle with cheese.
Return to oven, uncovered and continue baking until cheese has melted and potatoes are fork tender, approximately 10 minutes.