What a delightful dish this is! You might have to lick the bowl when you're finished with it. It's that good!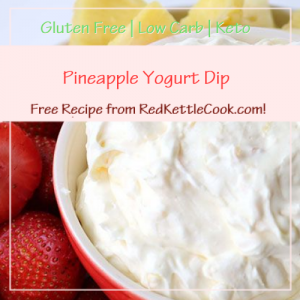 Yields 24 servings
Ingredients:
1 – 8 oz. pkg. of cream cheese, softened
1 – 8 oz. container of plain yogurt
1 – 8 oz. can of crushed pineapple, drained well
1/2 c. Swerve
Instructions:
In a food processor or blender process the cream cheese, yogurt, pineapple & Swerve until smooth.
Spoon into a serving dish, then cover & chill for at least an hour.
Serve with an assortment of fresh organic fruits.
Recipe note: Carbs: 2 g. | Protein 2 g.