Mushrooms Stuffed with Feta & Dill
These amazing treats will melt in your mouth! They have a great taste! Plus they are the perfect thing to serve for any kind of occasion!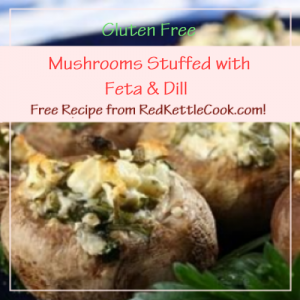 Ingredients:
Instructions:
Preheat oven to 375°F.
Mix walnuts, bread crumbs, dill, feta, milk & pepper (to taste) together in a bowl.
Wipe the mushrooms clean with a damp cloth & remove the stems.
Stuff each mushroom cap with the mixture from the bowl. Pressing the mixture firmly into the mushroom caps.
Generously butter (or use Ghee) a baking dish that will hold all of the mushroom caps.
Place mushrooms in the baking dish & drizzle with the olive oil over each mushroom cap.
Bake for 20 minutes or until the tops are lightly brown.
May be covered & chilled for up to 24 hours before baking.