Why stop & pick up some wings, when you can make them yourself for half of the cost? As well as half of the time as making traditional wings? This recipe can't be beat!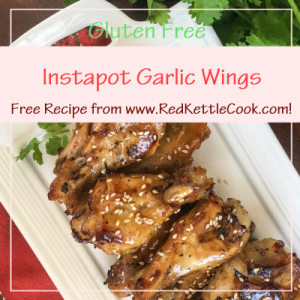 Serves 4-6
Ingredients:
4 – 4 1/2 lbs. chicken wings
1 c. water
Salt and black pepper, to taste
White sesame seeds, for garnish
Sesame Garlic Sauce Ingredients:
1/4 c. coconut aminos (or soy sauce if not gluten free)
2 T. sesame oil
3 T. honey (preferably local)
1 T. unsalted butter
2 tsp. fresh ginger, very finely minced
1 tsp. garlic powder
Instructions:
Season wings with salt and black pepper (to taste). Place metal trivet inside Instapot & add one cup of water. Arrange seasoned wings on top of the trivet before securing the cover in place. Switch the vent to "Sealing" and set the "Manual" setting to 8 minutes.
To prepare the sesame garlic sauce, heat the coconut aminos, sesame oil, honey, butter, ginger & garlic powder in a small saucepan over medium heat. Cook, stirring frequently until butter is melted and the mixture is thoroughly combined. Remove from heat and set aside.
When cook time on Instapot is complete, allow pressure to naturally release for 10 minutes, then do a quick release for any remaining steam. Remove lid and transfer wings to a large bowl. Set aside and cool slightly.
Meanwhile, position top oven rack in the top position and preheat broiler to high. Line a large, rimmed baking sheet with aluminum foil and place a wire cooling rack on top. Set aside.
Pour 1/3 of the sesame garlic sauce on top of the wings and toss to coat. Transfer the wings to the wire rack on the prepared baking sheet and place under the broiler for 3-4 minutes or until the wings start to get crispy and develop some color. Turn the wings and repeat on the remaining side.
Remove from oven and toss the wings with half of the remaining sesame garlic sauce. Sprinkle with white sesame seeds (optional) & serve immediately with the remaining sauce on the side.