Green Bean Salad with Tomatoes & Feta Cheese
This versatile salad combines garden fresh herbs and vegetables with the delicious flavor of Feta cheese. As an added bonus, it takes less than 20 minutes to put together and can be enjoyed either warm or cold.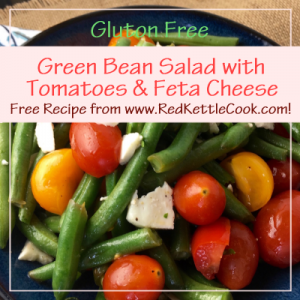 Serves: 4 – 6
Ingredients:
1 1/2 lbs. fresh green beans, tips removed then cut in half
1 pint grape tomatoes, washed then cut in half
1 T. fresh basil leaves, finely chopped
1 T. fresh parsley leaves, finely chopped
3 T. extra virgin olive oil
2 T. sherry vinegar
Sea salt (or Kosher or regular) and black pepper (or freshly ground), to taste
1 c. Feta cheese, crumbled
Instructions:
Over high heat, bring a large pot of salted water to a boil. Add green beans and cook until crisp tender, approximately 3-4 minutes. Drain the green beans and then transfer to a large bowl of ice water to stop them from cooking further.
Remove green beans from the ice bath and pat dry before adding to a large glass or other non-reactive bowl.
Add the tomatoes, basil, parsley, olive oil, and vinegar to the bowl and toss to combine.
Season with salt and pepper, to taste.
Gently fold in crumbled Feta cheese and serve immediately. Salad can also be chilled & served cold.