While you can add dried fruit such as raisins & dates to this recipe, you're free to omit them, if you don't care for them. But it's still a great way to get your family to eat whole grains!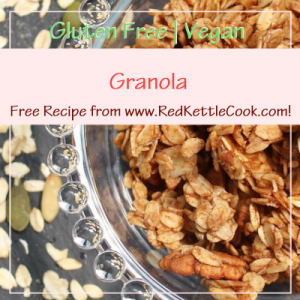 Makes 3 cups
Ingredients:
2 cups gluten free organic rolled oats
1/4 cup organic honey
1/3 cup organic vegetable oil
1/4 tsp. salt
1/2 tsp. organic vanilla
1/2 cup raisins (optional)
1/2 cup dates (optional)
1 cup gluten free almonds (optional)
Instructions:
Preheat oven to 325°F.
Mix all ingredients together.
Spread thinly on a parchment paper lined cookie sheet.
Bake for 20 t0 25 minutes at until lightly browned.
Don't let cool in the pan or you'll never get it out.
Use a spatula to transfer granola to another heat-resistant container to let cool.
Cover after it's cooled down & store.