Hold onto your hat, you're in for a wild ride with this refreshing recipe!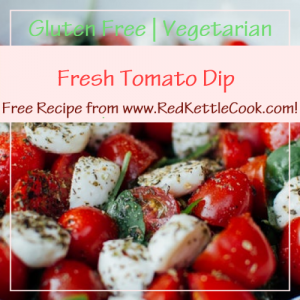 Ingredients:
1 cup fat free mozzarella, shredded
1 large tomato
1 small can green chilies
2 large cloves garlic
Salt, to taste
Directions:
Chop the tomato and lay it out on a plate or cutting board. Salt it well and let sit for 10 minutes. This really helps put flavor back into tasteless tomatoes.
Shred the garlic on the small holes of a cheese shredder.
Mix everything together and microwave for 3 minutes.
Serve with crispy warm tortilla chips. Use the thick kind
because the thin kind will break when you try to scoop this heavy mix up.