Don't worry about the strong flavor of white onions! Once they're baked you won't recognize them! It's the topping's on the onions that make this recipe the best!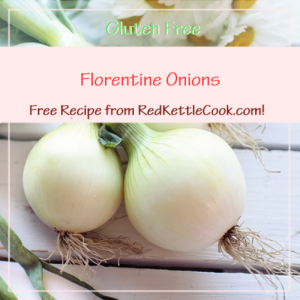 Ingredients:
1 lg. organic white onion
1 – 3 oz. pkg. low fat cream cheese, softened
1 organic egg, beaten
1/2 c. grated Parmesan cheese
1/4 tsp. sea salt
Organic black pepper, to taste
1/4 c. milk (or almond milk)
1 – 10 oz. pkg. of frozen chopped organic spinach, cooked & drained
Instructions:
Preheat oven to 350°F.
Peel onion & cut in half through the midsection.
Separate the layers into individual shells. Arrange them in an 8″ square baking dish that's been sprayed with extra virgin olive oil.
In a small mixing bowl, combine cream cheese & egg then beat until light.
Add Panko crumbs, cheese, salt, pepper (to taste) & milk. Mix well.
Stir in spinach then spoon spinach mixture into the onion shells.
Cover & bake for 35 minutes or until the filling is set.