Citrus Vinaigrette Over an Orange Fennel Salad
Fennel & orange go together—much like peanut butter & jelly do! You'll love it so much that you'll eat this salad as a meal & dessert all at the same time!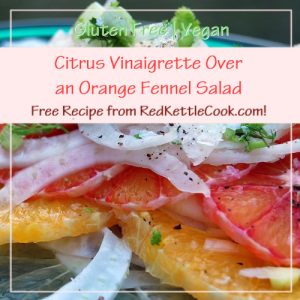 Ingredients:
3 organic blood oranges (or regular organic navel oranges), cut into thin slices with rind removed
1 bulb organic fennel, washed, dried & thinly sliced. Bottom & green leaves removed then discarded
1 head organic Romaine lettuce or other leafy green lettuce of your choice
Citrus Vinaigrette, to taste
Instructions:
Arrange the Romaine or other lettuce leaves on each plate & top with alternating slices of fennel & orange.
Drizzle the entire plate with Citrus Vinaigrette then season with salt & pepper (to taste). Serve immediately.