Chicken Casserole with Biscuit Nuggets
Want more than your average chicken casserole? If so, you'll be amazed by the flavors of this recipe!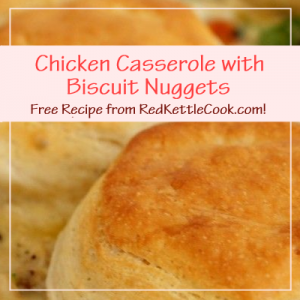 Ingredients for the Filling:
Ingredients for the Topping:
Instructions:
Preheat oven to 350°F.
In a saucepan, combine the filling ingredients over medium heat. Heat until bubbly.
Pour into a 1 1/2 quart baking dish that's been sprayed with vegetable spray.
Cut each biscuit into 4 pieces.
In a plastic bag, combine paprika, cheese & parsley. Then shake the biscuit pieces in the bag.
Layer them over the chicken mixture.
Bake for 15 minutes, or until the chicken juices run clear & the sauce is bubbling up the side of the dish.
Bake for about 30 minutes.