Cantonese Pork & Shrimp Spring Rolls
There are many forms of spring rolls that you can enjoy. The filling depends on the originating culture. In Chinese culture the shrimp symbolize happiness and good fortune.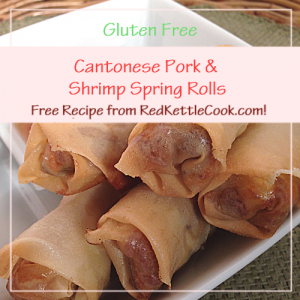 Makes 10-12 spring rolls
Meat & Mushroom Ingredients:
3 dried Chinese or shiitake mushrooms
1/8 lb. ground pork, browned first
6 small cooked shrimp, shells & tails removed
Marinade Ingredients:
Veggie Filling Ingredients:
Organic peanut oil, for frying
1/2 tsp. organic garlic, minced
1/2 tsp. organic ginger, minced
1/2 organic carrot, shredded
1/4 organic bell pepper, finely chopped (yellow adds more color)
1/2 cup organic Napa cabbage, shredded
2 organic green onions, finely chopped
1/2 cup organic bean sprouts, chopped
Other Ingredients:
Instructions:
Soak the dried mushrooms in water for about 30 minutes.
Brown the pork in a skillet. Set aside. When cool enough, chop into finer pieces.
Chop shrimp finely.
Combine all the marinade ingredients in a bowl. Add the pork & shrimp.
Let marinate for about 15 minutes while you prepare the remaining ingredients.
Squeeze water out of mushrooms & chop finely.
Preheat vegetable oil in deep fryer to 350°F.
Heat wok or skillet over medium heat & add 1/2 T. vegetable oil. Sauté mushrooms for 1 minute. Then add the garlic, ginger, carrots, cabbage & pepper. Sauté for 1 minute more. Finally, add the green onions & bean sprouts. Sauté until softened.
Mix vegetable & meat mixture together. Spoon 2 tablespoons of the mixture near the bottom of the wrapper placed on an angle. Fold the bottom up part way. Fold the sides in and roll up until closed. Dip your finger in the cornstarch & water mixture then use your finger to seal the roll (see the image below).
Gently place the spring rolls into the hot oil. Do not let the rolls overlap, so you may have to cook in batches. Fry for about 3 to 4 minutes or until crispy and golden. Remove with tongs or a slotted spoon & let cool on paper towel.
Serve with plum sauce or your favorite spring roll dipping sauce.