Beef Sliders with Bacon, Bleu Cheese & Mushrooms
A slider without a bun? Yep! They're completely unnecessary! Between the bacon, bleu cheese & sautéed mushrooms…you'll want to grab a napkin…to dry your tears from the mouth-watering goodness from the very first bite!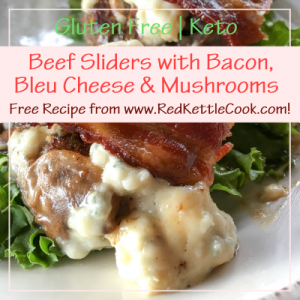 Serves 4
Ingredients:
1 lb. ground beef (or ground turkey)
2 tsp. Dijon™ mustard
3 cloves of garlic, finely minced
2 T. white onion, finely minced
2 T. extra virgin olive oil, divided
4 oz. white mushrooms, sliced
3 oz. bleu cheese, crumbled
3 strips bacon (pork or turkey), cooked & cut into thirds
Sea salt and black pepper, to taste
Instructions:
Preheat oven broiler to high and set top oven rack to the second highest setting.
Add ground beef, mustard, garlic & onion to a medium bowl. Season with salt and black pepper (to taste) & mix with a fork or your fingers until all ingredients are thoroughly combined.
Divide beef mixture into 8 portions & shape each into small patties. Set patties on a plate and gently press each with your thumb in the center to keep them from puffing up while cooking. Set aside.
Heat olive oil over medium-high heat in a large, oven-safe skillet. Add mushrooms & cook, stirring occasionally until mushrooms are nicely browned, approximately 5 to 6 minutes. Remove from heat & transfer mushrooms to a small bowl and set aside.
Add remaining tablespoon of olive oil to pan & swirl to coat the bottom. Add slider patties to the skillet & cook until brown on each side, approximately 2 to 3 minutes per side.
Remove from heat and top each slider with sautéed mushrooms & crumbled blue cheese. Place skillet in oven under broiler for 2 to 3 minutes, or until blue cheese starts to melt.
Remove skillet from oven & top each slider with a piece of bacon and serve immediately on a bed of lettuce and with a side of steamed broccoli (if desired).