So very healthy and yet so very tasty all rolled into one amazing dish!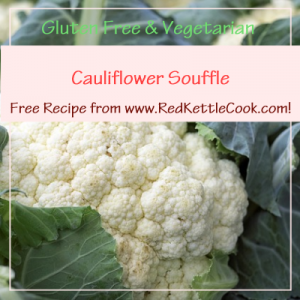 Ingredients:
1/2 cup steamed, mashed cauliflower (leftover works fine)
1 egg
1/4 cup ricotta cheese
2 T grated cheddar cheese
Pinch of nutmeg
Dash of cloves
Salt, pepper to taste
Onion/Garlic (optional)
Instructions:
Mix all ingredients together, microwave for 5 minutes.  If you use 1/4 cup of heavy cream instead of the ricotta cheese, it will be more like a quiche than a souffle.