Bresaola with Mushrooms & Walnuts
Bresaola is an air dried, salted beef that has been aged two or three months until it becomes hard & turns a dark red (almost purple) color. It's made from top round steak. It's extremely lean & tender. And tastes great!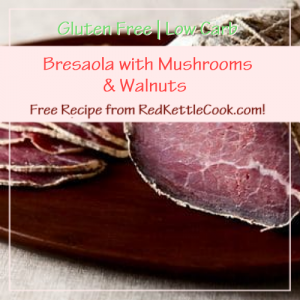 Yields 4 servings
Ingredients:
Instructions:
On a large plate, lay the bresaola, overlapping them to cover the plate.
Top it with the mushrooms.
Then sprinkle the walnuts over the bresoala & mushrooms.
Add the Parmesan cheese, salt & pepper (to taste).
Note: You can usually find bresaola in most specialty food stores.