You'd think that this was a dessert just based on the title. But then you'd be wrong! It's a recipe for a wonderful dip that'd be great for game day, or anytime you have company & want to serve a crowd!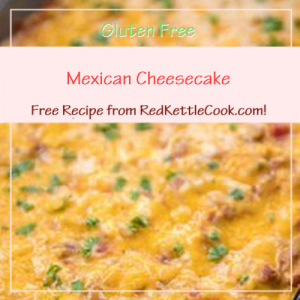 Ingredients:
2 – 8 oz. pkgs. of cream cheese
1 – 8 oz. container of sour cream
2 c. Monterey Jack or Mexican cheese, shredded & divided
3 organic eggs
1 c. salsa
8 oz. organic chili peppers, chopped
1 c. organic tomatoes, chopped
1/2 c. organic green onions
Small amount of guacamole (optional garnish)
Instructions:
Preheat the oven at 350°F.
Cream the cream cheese, sour cream & 1 2/2 c. of the cheese together.
Then add the eggs, chili peppers & salsa.
Bake for 45 minutes to 1 hour in a springform pan sprayed with extra virgin olive oil.
Top it with the remaining cheese & the green onions.
When it's finished baking, release the sides of the springform pan & remove it to a decorative plate or serving dish.
Top it with the chopped tomatoes & guacamole (if desired).
Serve it with your favorite gluten free crackers or gluten free tortilla chips.