You can't beat this for a tasty Italian meal! You can pair it with some of our Brushatta Tomato Bread or our Italian Bread Brushed with Fresh Garlic. Yum!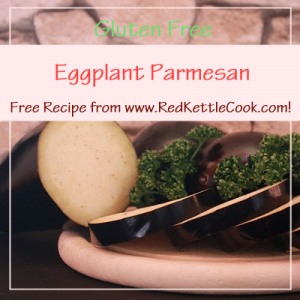 Serves 4-5
Ingredients:
1 lg. eggplant, pared & sliced into 1/4″ thick pieces
3 eggs, beaten
1/2 c. freshly grated Parmesan cheese
2 tsp. organic dried oregano
1/2 lb. sliced mozzarella cheese
3 – 8 oz. cans of organic tomato sauce
Instructions:
Dip eggplant in beaten eggs & then in the gluten free breadcrumbs.
Sauté in oil until brown on both sides.
Grease a 2-quart casserole dish & layer 1/3 each of eggplant, Parmesan cheese, oregano & mozzarella cheese.
Cover well with half of the tomato sauce. Repeat the layers twice, ending with mozzarella cheese.
Bake uncovered for 30 minutes.