Italian Bread Brushed with Fresh Garlic
No matter what kind of Italian recipe you pair this with, it's going to be a perfect accompaniment & will enhance the flavors of your meal!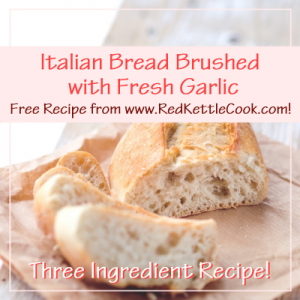 Ingredients:
4 – 1/2″ thick slices of Italian bread (such as Toscano or Pugliese bread or any salt-free Italian bread)
4 garlic cloves
8 tsp. organic extra virgin olive oil
Instructions:
Toast the bread either on a grill or in the oven.
While the bread is still hot, rub each slice of bread with the garlic cloves & then the extra virgin olive oil.
Serve while still hot.