This is a wonderful recipe! Doesn't matter if you eat it with spaghetti, ravioli, or any other Italian supper. It's going to fill you up & make you want more!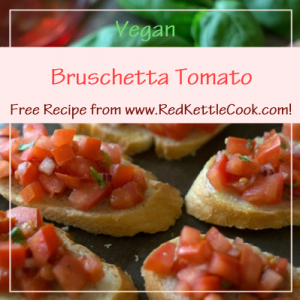 Ingredients:
8 slices of Italian bread (like Tuscan or Ciabatta)
2 large cloves of garlic, cut in half
2 T. onion, minced
1 lg. organic tomato, diced
1 tsp. organic dried oregano
2 tsp. Parmesan cheese (optional)
Instructions:
Toast the bread, either on a grill, or in the oven.
While the bread is hot, rub one side of it with the garlic.
In a non-stick skillet over medium-high heat, sauté the onion in the organic extra virgin olive oil until it's tender.
Add the tomato, organic oregano & freshly ground organic pepper. Stir until well combined.
Spoon the tomato mixture over the garlic side of the hot toast.
Sprinkle with the Parmesan cheese (optional) & broil on high for 1 minute. Watch it closely so the tomato mixture doesn't burn!
Serve it immediately while it's hot.