Looking for a low carb side dish that's delightful & has a terrific caramelized flavor! This great side dish goes great with pork chops or roast chicken & will make a terrific low carb meal!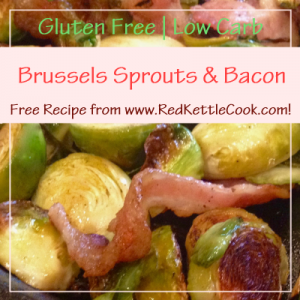 Serves 4 to 6
Ingredients:
Instructions:
Preheat oven to 400°F.
Cook bacon in a large cast iron skillet over medium-high heat, turning once to ensure it's cooked evenly on both sides. Cover pan with a splatter guard or the lid that's not quite closed while cooking (if desired).
Remove skillet from heat & place cooked bacon on a wire rack set over paper towels to drain. Once cool, blot bacon with paper towels to remove excess fat before crumbling.
After skillet has cooled slightly, carefully drain the excess bacon fat into an empty can, glass jar or other heat-safe container. If any fat drips down the side of the skillet, be sure to wipe it off with a damp dish cloth, before putting it back on the burner.
In a large bowl, combine Brussels sprouts & olive oil & toss to coat. Season with salt & freshly ground black pepper (to taste).
Heat skillet over medium-high heat & add Brussels sprouts & cook for several minutes until they begin to turn brown. Add the crumbled bacon to the skillet & place in the preheated oven. Roast for 20 to 25 minutes, stirring halfway through. Until the sprouts turn a rich, caramelized color.
Remove skillet from oven & serve immediately.