Avocado Mayo & Bleu Cheese Wedge Salad
This robust salad is great as a tasty lunch all on its own. But if you serve it with another Low Carb main dish, such as our Roasted Chicken with Garlic & Herbs (add link) & another veggie side. You'll have a wonderful low carb supper!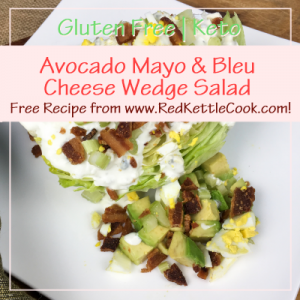 Serves 6
Ingredients:
1 large head iceberg lettuce, cut into 6 wedges
2 large avocados, diced
3 strips sugar-free bacon (pork or turkey), cooked crispy & crumbled
3 hard-boiled eggs, peeled & chopped
1 large stalk celery, chopped
Sea salt and black pepper, to taste
Instructions:
When ready to serve the salad, place each wedge of iceberg lettuce onto individual chilled serving plates.
Drizzle each wedge with some homemade bleu cheese dressing & then top each with an equal amount of avocado, crumbled bacon, chopped hard-boiled eggs & chopped celery.
Season with salt and black pepper (to taste) & serve immediately.