Bleu Cheese Salad Dressing
Nothing tastes better than homemade. Nothing! This recipe makes an astounding topping to any kind of salad that you put it on!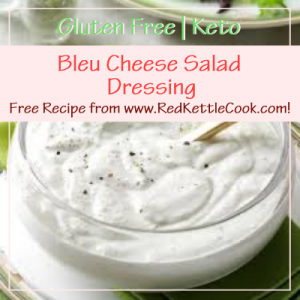 Ingredients:
2 oz. bleu cheese, crumbles
2 T. Greek yogurt
2 T. full fat sour cream
Sea salt and black pepper, to taste
2 to 3 T. half & half (optional)
Instructions:
Combine the avocado mayonnaise, bleu cheese, Greek yogurt, sour cream & garlic salt in a medium glass or other non-reactive bowl.
Stir enough half & half (if desired) into the bleu cheese mixture to reach the desired consistency.
Season with salt and black pepper (to taste) & stir to combine.
Cover & refrigerate until ready to use.