If you're looking for a meatless meal that satisfies, just about everyone, look no further!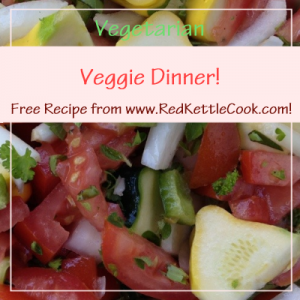 This isn't exactly a recipe, but is meant to inspire you for our next veggie dish. Or if you're looking for a vegetable side dish this is the perfect recipe to use!
Ingredients:
Use whatever veggies that you'd like to use! Go for the seasonal ones first. Or organic, if you'd prefer. Here are some suggestions:
Pattypans
Eggplant
Yellow Crookneck Squash
Chayote Squash
Zephyr Squash
Cousa Squash
Tatuma Squash
Butternut Squash
Gourmet Globe
Pumpkin
Cucumber
Zucchini
Round Zucchini
Tomatoes
Onions (any color)
Bell Peppers (any color)
Portabella Mushrooms
Shiitake Mushrooms
Oyster Mushrooms
Button Mushrooms
Crimini Mushrooms
Beech Mushrooms
King Trumpet Mushrooms
Chanterelle Mushrooms
Hedgehog Mushrooms
Whole Garlic Cloves
Jalapenos
Potatoes
Herb Suggestions:
Fresh or dried organic Basil
Fresh or dried organic Parsley
Fresh or dried organic Oregano
Fresh or dried organic Thyme
Fresh or dried organic Rosemary
Fresh or dried Chervil
Fresh or dried organic Tarragon
Fresh or dried organic Coriander
Fresh or dried organic Dill
Fresh or dried organic Ginger
Organic Cumin
Organic Lemongrass
Organic Curry
Salt & Pepper, to taste
Instructions:
Preheat your oven to 350°F.
Cut up all ingredients (that you've chosen) into large bite-sized chunks.
Place them in a large piece of aluminum foil inside of a large oven-safe bowl & drizzle them with olive oil. Making sure that everything is well coated.
Add your fresh (or dried) herbs & gently stir until everything is coated.
Close up the aluminum foil & bake for about 40 minutes or until the veggies are fork-tender.
If you'd like, you can drizzle with our "Hot Bacon Dressing" or your favorite balsamic vinegar glaze.
Serve over rice, quinoa or just eat them as a side dish. They're good no matter how you serve them or what you serve them with!