Sweet & Sour Cantonese Pork
You don't need to add any sides to this recipe! Unless you want to serve some Egg Rolls as an appetizer with them!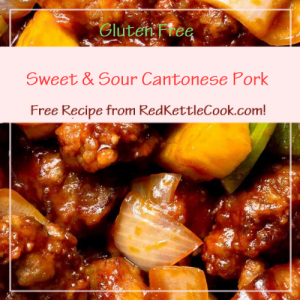 Ingredients:
Instructions:
Place pork strips in the bottom of a crockpot or slow cooker.
Add bell pepper & onion.
In a bowl mix the sugar (or gluten free & organic brown sugar substitute) & cornstarch together.
Then add 1 c. of the reserved pineapple juice to it. Along with the vinegar, water, soy sauce & salt. Blend until smooth.
Pour over the meat & vegetables.
Cover & cook on low for 7 to 9 hours.
One hour before serving, add the pineapple chunks & stir.
Serve over gluten free chow mien noodles or gluten free brown rice.