Don't knock it until you've tried it! What a great recipe! And since it's made in a single skillet it'll keep you from having to wash a half-dozen pans!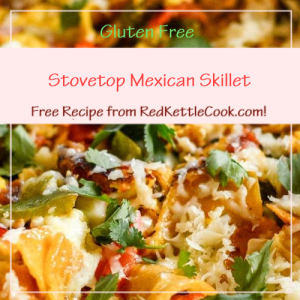 Yields 6 servings
Ingredients:
1 lb. lean ground beef or ground turkey
2 c. Tomato Salsa
1 – 15 oz. can of organic whole kernel corn, drained. Or 2 c. frozen organic corn
1 – 15 oz. can of organic Navy or organic pinto beans, drained
8 oz. cheddar cheese, shredded
1 c. sour cream
2 organic green onions, diced
Organic black olives (optional)
Organic cilantro leaves (optional garnish)
Instructions:
In a 12-inch skillet, brown the meat & drain.
Add salsa, corn & beans.
Cook on medium heat for 5 to 10 minutes until heated thoroughly.
Using a pizza cutter or a sharp knife, dice the tortillas into 2-inch pieces.
Sprinkle the tortillas strips on top of the meat mixture.
Top with cheese.
Simmer for 5 to 10 more minutes until the cheese is melted.
Serve topped with a spoonful of sour cream, a tsp. of green onions, some cilantro leaves & black olives (if desired).