Savory Butternut Squash Noodles
These butternut squash noodles can be purchased at your favorite market or you can make your own if you have a vegetable spiralizer.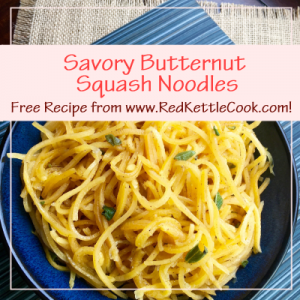 Serves: 4 – 6
Ingredients:
2 T. extra virgin olive oil
4 c. prepackaged butternut squash noodles (or make your own if you have a spirilizer)
3 T. unsalted butter
1 1/2 T. fresh sage, chopped
2 tsp. ground cinnamon
Sea salt and freshly ground black pepper, to taste.
Instructions:
Heat olive oil in a large skillet over medium heat.
Add butternut squash noodles and cook for 4-5 minutes, turning frequently to ensure they cook evenly. When noodles are slightly softened, remove from pan and set aside. Keep warm.
Add butter to pan and heat until melted. Stir in chopped sage and cinnamon and cook until fragrant, approximately 2-3 minutes, stirring frequently.
Return butternut squash noodles to pan and toss to coat in sage butter mixture. Remove from heat and season with salt and pepper, to taste.
Serve immediately with your favorite entrée or as a light main course.