Roasted Pork Chops Rubbed with Ranch Seasoning
Even though it only takes three ingredients (Well, it takes five. If you count the salt & pepper. But let's not count it, okay?!) to make this recipe. The taste is stupendous!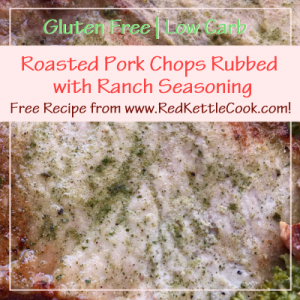 Serves 4
Ingredients:
Instructions:
Preheat oven to 400°F & line a large rimmed baking sheet with aluminum foil or parchment paper. Set aside.
Rub pork chops with 1 to 2 tablespoons dry ranch seasoning (divided evenly among all 4 chops), until coated. (Store remaining ranch seasoning in an airtight container to use at a later time).
Heat extra virgin olive oil in a large skillet over medium-high heat before adding seasoned pork chops to skillet. Sear pork chops on each side until browned, approximately 2 minutes per side.
Once browned, transfer pork chops to the lined baking sheet, leaving room between each pork chop so they are not over crowded. Place baking sheet in the preheated oven and roast for 8 minutes before turning each chop. Continue roasting another 8 to 10 minutes, or until a meat thermometer inserted into the thickest portion of the chop reads 145°F (medium-rare) to 160°F (medium).
Remove chops from oven & let rest for 3 to 5 minutes before serving.