Quick & Easy Santa Maria Steak
This simple recipe comes together in less than 20 minutes, which is ideal for a busy weeknight meal!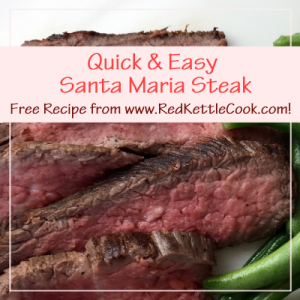 Serves: 4 – 6
Ingredients:
2 lbs. Santa Maria steak, approximately 1" thick
2 T. extra virgin oil
1 T. kosher salt
1 tsp. freshly ground black pepper
2 tsp. garlic powder
1 T. fresh rosemary leaves, finely chopped
Instructions:
Heat the olive oil in a large cast iron or other heavy-duty skillet over medium-high heat.
Combine the salt, pepper, garlic powder, and rosemary in a small bowl.
Rub the salt mixture on all sides of the steak and place in the hot skillet. Sear steak on both sides, approximately 2 minutes per side.
Reduce heat to medium and continue cooking the steaks for another 6-8 minutes, turning once to cook evenly on each side. This will yield medium-rare to medium steaks (internal temperature of 145° – 160°F). Cook for another 2-3 minutes for more well done steaks. (For thinner steaks, reduce cooking time by 3-5 minutes).
Remove steaks from skillet and loosely cover. Rest for 5-10 minutes before serving.
To serve, cut steaks in thin slices against the grain for more tender results.