There's not a single Tex-Mex meal that doesn't come with a heaping spoonful of fresh Pico de Gallo. Why not make your own & enjoy it with anything you want to? You're going to love it's fresh & bold flavors!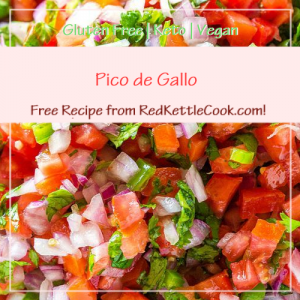 Ingredients:
8 fresh ripe organic Roma tomatoes, seeded & diced
1/2 large organic red onion, minced
3 cloves organic garlic, diced
1 tsp. ground organic cumin
1 large bunch fresh organic cilantro, stems removed & finely minced
Juice from 1 fresh lime
1 jalapeño pepper, seeded & finely minced (optional)
Instructions:
Place diced tomatoes, red onion, garlic & cumin in a glass bowl. Then stir to combine.
Stir in 1/2 of the cilantro & lime juice, then taste. If desired, add remaining cilantro & lime juice. Season with salt & pepper (to taste).
Serve as a side with your favorite Mexican and/or Tex-Mex entrée or by itself with crispy tortilla chips.
Would also be a great accompaniment with Chunky Guacamole & crispy tortilla chips!