Pasta Fagioli with Fresh Pesto
If you have never eaten fresh homemade pesto before, then you are in for a real treat & one that cannot be beat!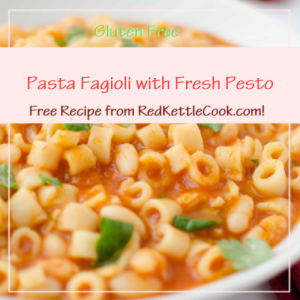 Ingredients:
Instructions:
In a heavy bottomed pan, heat olive oil over medium-high heat. Add celery and onions & sauté until tender, but not mushy. Add garlic & cook for 30 seconds to one minute. Do not brown.
Add 2 1/2 c. of organic chicken broth to pot. Season with oregano, basil, rosemary & crushed red pepper flakes, if desired. Sprinkle with salt & pepper.
Add chopped & pureed tomatoes to pot. Simmer on low for 20 to 25 minutes. Add uncooked pasta & cook until tender. Approximately 10 minutes.
Add beans & reserved liquids to pot then heat through. Ladle into bowls & top with a dollop of fresh pesto, if desired.
Serve with freshly grated, or shaved Parmesan cheese & crusty Italian bread.