Pesto's great with your favorite pasta, rice or soup! It also tastes amazing on top of a piece of crusty bread!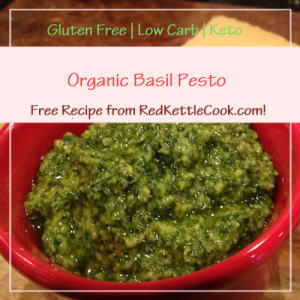 Ingredients:
2 cups fresh organic basil, loosely packed
1/4 cup toasted organic pine nuts
2 to 4 garlic cloves, peeled (amount based on personal taste & strength of garlic variety used)
2/3 cup Parmesan cheese, freshly grated
1/3 cup plus 2 T. extra virgin olive oil
Instructions:
Remove basil leaves from stems, then wash & pat dry.
Add basil, pine nuts, peeled garlic gloves & Parmesan cheese to food processor or blender. Quickly pulse until barely combined, then add 1/3 cup extra virgin olive oil & blend thoroughly.
Add remaining olive oil and/or additional grated Parmesan cheese to achieve the desired consistency.
Season with salt and pepper (to taste).