These go with just about anything! But they are ideal with Grandpa's Pasta Sauce or my Italian Meatball Soup recipe!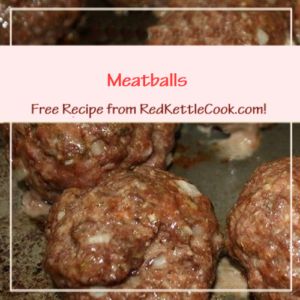 Ingredients:
2 lbs. ground beef
2 eggs
3 T. grated Parmesan cheese
Salt & pepper, to taste
bread crumbs
Directions for the Meatballs:
Preheat your oven to 350°F.
Mix meat, eggs & grated cheese together.
Then add salt & pepper (to taste).
Add breadcrumbs until you can form firm meatballs.
Bake for 30 minutes or until they're brown but not crispy.
Use in any recipe calling for meatballs.