Grilled Pita & Carrot Sticks
If you've never grilled pita bread you're in for a real treat! And when you add the Chickpea & Cilantro Dip to this recipe the flavors will rule the day!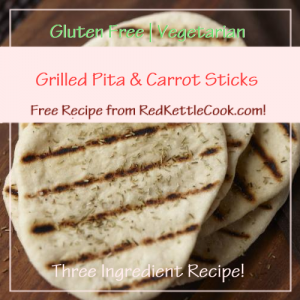 Ingredients:
Instructions:
Prepare the grill for cooking. If using a charcoal grill, open the vents on the bottom of the grill & on the lid.
When the fire's hot (i.e. you can hold your hand 5″ above the rack for 1 to 2 seconds), grill the pitas on lightly oiled grill rack with extra virgin olive oil spray.
Grill them uncovered, turning them once, until golden brown. About 2 minutes total.
Serve them with the carrot sticks & additional Chickpea & Cilantro Dip (if desired).