Once the flavors of this recipe have a chance to meld together they'll bring a party to your mouth!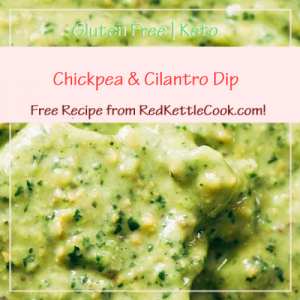 Ingredients:
1 c. canned organic chickpeas, rinsed & drained
1/4 c. low fat plain yogurt
1/2 c. fresh organic cilantro, chopped
1 small organic garlic clove, chopped
1 1/2 T. fresh lime juice (or organic lime juice concentrate)
1 T. water
1/4 tsp. sea salt
Instructions:
Slip the skins from the chickpeas with your fingers.
Then purée them with the yogurt, cilantro, garlic, lemon juice, water & salt together in a food processor until smooth.
Serve with the Grilled Pita & Carrot Sticks or on your favorite sandwich.