This delectable light soup delivers the classic flavors of Chicken Marsala in a bowl.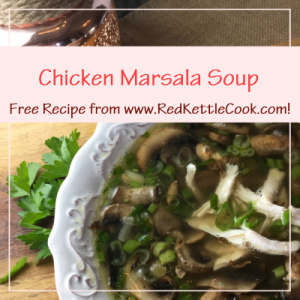 Serves: 6
Ingredients:
3 T. extra virgin olive oil
8 oz. white mushrooms, sliced
Sea salt and black pepper, to taste
4 green onions, ends removed and chopped thin, white and green parts separated
2/3 c. dry Marsala wine
6 c. chicken stock
3 c. rotisserie chicken, shredded
Instructions:
Heat a heavy soup pot or Dutch oven over medium-high heat.
Add olive oil and mushrooms and cook, while stirring occasionally, until mushrooms start to release their juices, approximately 6-7 minutes.
Season with salt and pepper, to taste.
Add white parts of onion to pan and cook for 1-2 minutes, stirring once or twice.
Increase heat to high and add the Marsala wine. Cook until wine has reduced to 1/3 of its volume, approximately 4-5 minutes.
Add chicken stock and shredded chicken and bring to a boil. Reduce heat to just below medium. Simmer until heated through, approximately 4-5 minutes.
Remove from heat and ladle into individual soup bowls. Garnish with green parts of onion and serve immediately.