Looking for a great way to have a fajita without all the carbs? Try this Chicken Fajita Salad recipe.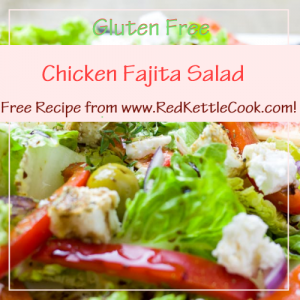 Ingredients:
1 T. olive oil
1 cup chicken breast, cut into bite sized pieces
1 red bell pepper, sliced
1 green bell pepper, sliced
1 small onion, sliced
1/2 tsp. salt
1 tsp. chili powder
1 tsp. ground cumin
1 tsp. garlic powder
2 cups lettuce, your choice
1 avocado, sliced
Directions:
In a skillet over medium-high heat, pour in olive oil.
Add in the chicken breast on one side and the bell peppers and onion on the other side.
Sprinkle the whole skillet with salt, chili powder, cumin and garlic powder.
Toss the peppers and onions occasionally and let saute 3 to 5 minutes.
Flip chicken and continue cooking another 3 to 5 minutes (tossing peppers & onions occasionally) until the chicken is cooked through.
Compile two individual salads, or one big salad by adding chopped lettuce to a bowl or plates. Add chicken, peppers and onions.
Top with avocado slices.
Drizzle the Olive Oil & Lime Salad Dressing  on top.