Chicken & Broccoli Alfredo
There's nothing better than a traditional Alfredo sauce. Unless it can be made with less fat & calories! If you try this recipe you'll make it a new family favorite!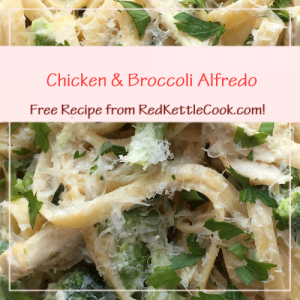 Ingredients:
1 lb. fettuccine noodles, cooked according to package directions
1 rotisserie chicken, meat removed & torn or cut into bite-sized pieces
1 head fresh organic broccoli florets (reserve stalk & stems for another use) or 1 – 12 oz. bag of frozen organic broccoli florets
2 T. water
1 c. Alfredo Sauce
Instructions:
Cook the fettuccine while preparing the sauce so the noodles are still warm when ready to toss with the other ingredients.
Prepare broccoli by placing florets in a microwave-safe bowl with 2 tablespoons water. Microwave on high until crisp-tender. Cooking time will vary depending on individual microwave ovens, so test after 2 minutes & adjust cooking times accordingly. When finished, drain to remove excess water & set aside.
Add chicken, broccoli & cooked fettuccine noodles to a large serving bowl. Add the sauce to the bowl & gently toss until thoroughly combined. Top with chopped parsley & more freshly grated Parmesan cheese.
Serve immediately.