A great accompaniment to any pasta dish! Eat it with plain pasta or kick it up a notch & pair it with chicken or fish. You won't be sorry!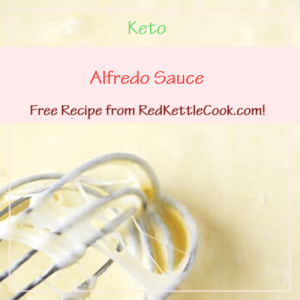 Ingredients:
1 c. butter (or Ghee)
4 cloves fresh organic garlic, peeled & finely minced
8 oz. low fat cream cheese, softened
1 1/4 c. heavy whipping cream
1/2 c. organic chicken broth
Sea salt & organic black pepper, to taste
1 c. Parmesan cheese, freshly grated
I small bunch fresh organic parsley, chopped
Additional freshly grated Parmesan cheese, to serve
Tip: To prevent curdling, remove half & half from refrigerator when starting this recipe so it is room temperature when added to the hot ingredients.
Instructions:
Add garlic & butter to a saucepan then turn heat to medium. Sauté garlic for 1 to 2 minutes before adding cream cheese, half & half, then chicken broth.
Continue cooking while stirring constantly until cream cheese is completely melted.
Reduce heat to low & continue stirring for about 15 minutes or until sauce thickens.
Remove from heat & stir in freshly grated Parmesan cheese. Season with salt & pepper (to taste).