This is a low carb and gluten free recipe that satisfies the hungriest of eaters!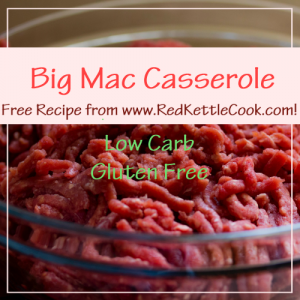 Ingredients:
Instructions:
Preheat oven to 350°F
In a large skillet over medium heat, brown the ground beef, minced onion flakes, garlic, Worcestershire sauce, sea salt & black pepper. Drain excess grease and transfer to a large casserole dish.
To the ground beef, add 1 cup sharp cheddar cheese, mozzarella cheese & 3/4 cup Russian dressing. Mix until all ingredients until they are well combined. Flatten down into a nice and even compact layer. Top with pickle slices.
Sprinkle the remaining cup of sharp cheddar cheese over top. Sprinkle the sesame seeds on top of the cheese.
Bake for 20 minutes. Turn the oven up to a high broil and bake for another 5 minutes.
Plate each serving on top of a bed of shredded Romaine lettuce & top with remaining Russian dressing.