Balsamic Glazed Caprese Salad
Who doesn't love this classic salad? Well, we've got news for you. The glaze that goes over the tomatoes, cheese & basil will knock your socks off! It's incredible!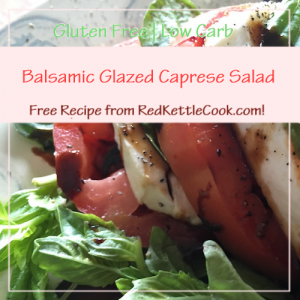 Ingredients:
Instructions:
Thoroughly wash & pat tomatoes and fresh basil dry.
Slice tomatoes, working from top to bottom, into evenly sized slices approximately 1/4" thick, set aside. Discard the bottom and top slices.
Cut fresh mozzarella into 1/4" thick slices, too.
On each plate, start with a tomato slice, followed by mozzarella & a large, fresh basil leaf.
Repeat this pattern until you've added 1 tomato and approximately 3 oz. of mozzarella to each plate, finishing each arrangement with a tomato slice.
Drizzle with organic extra virgin olive oil & then with the Balsamic Vinegar Glaze
Season with sea salt & freshly grated organic black pepper (to taste).
Garnish with extra organic fresh basil leaves (if desired).