This savory dip is the ideal recipe to make for a party! It's packed with flavors that are intense & quite satisfying to the most discernible eaters!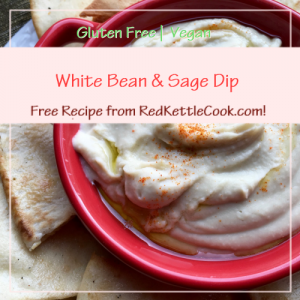 Yield: 6 servings
Ingredients:
Seasoned Pita Chips:
White Bean Dip:
Note: A little bit of fresh sage goes a long way. If you aren't sure how much to use, start with a small amount. Then taste and add more, if desired.
Instructions:
Preheat oven to 375°F.
Line a rimmed baking sheet with parchment paper. Cut each pita into 8 equal-sized wedges. Lightly brush pita wedges with olive oil on both sides & place on lined baking sheet.
Season pita with salt & pepper before placing in oven. Bake for 5 to 6 minutes before turning each wedge. Return to oven & continue baking for another 5 or 6 minutes, or until pita wedges are golden brown. Remove from oven & set aside.
Add cannellini beans, fresh garlic, lemon juice, sage leaves & olive oil to a food processor or blender & blend until smooth.
Pour bean mixture into a serving bowl, then season with salt & pepper (to taste). Right before serving, add a dash of cayenne pepper & a drizzle of extra virgin olive oil. Serve with seasoned pita chips or vegetable crudités.