This drink is so refreshing! If you're serving this Watermelon Lemonade, outside on a warm day, make extra so you can freeze some into ice cubes or an ice ring.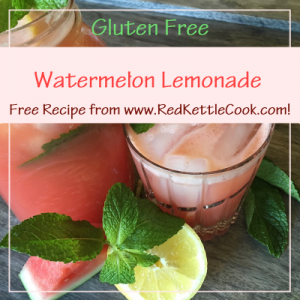 Ingredients:
6 cups fresh watermelon, rinds removed and cut into chunks
3/4 cups fresh lemon juice (6-8 medium lemons)
1/2 cup cold water, (plus more, if needed)
1/2 cup fresh mint leaves, tightly packed with stems removed
Fresh mint sprigs, for garnish
Lemon slices, for garnish
Instructions:
Add watermelon chunks, lemon juice and 1/2 cup cold water to a blender & blend until liquefied.
Pour through a fine mesh strainer or cheesecloth to remove any larger particles.
Bruise 1/2 c. fresh mint leaves with fingers to release oils and add to the bottom of a large glass pitcher or jar. If serving immediately, add ice cubes to the container and pour the watermelon mixture over top. Add fresh lemon slices to the container for garnish.
To serve, pour over ice & add a sprig of fresh mint & a lemon slice to each glass for garnish.