Velvety Turkey Mushroom Soup
Even if you're not ready for the cold weather to set in, this soup will make you want to wish for snow, so you can relish the richness of this soup!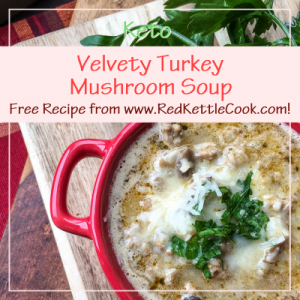 Serves 6
Ingredients:
Instructions:
Heat olive oil in a large skillet over medium-high heat. Add the onion & celery & sauté, stirring frequently, until the veggies are soft, approximately 4 to 5 minutes.
Add the mushrooms, ground turkey, Italian seasoning, red pepper flakes, garlic powder & onion powder to the skillet. Season with salt and black pepper (to taste). Cook, stirring frequently, until the turkey is no longer pink & the mushrooms start to release their juices, approximately 5 to 7 minutes.
Reduce heat to medium & add chicken (or vegetable) stock. Simmer for 2 to 3 minutes or until heated through. Add a spoonful of the hot liquid to the heavy cream to temper it before adding it to the skillet, as well. Stir to combine & simmer for another 1 to 2 minutes.
Add frozen cauliflower rice & 1 1/2 cups of the shredded cheese to skillet and stir to combine. Cook for 1 to 2 minutes, or until cauliflower is heated through and cheese is completely melted. Taste & adjust seasonings (as desired).
Remove from heat & transfer to individual soup bowls. To serve, top each bowl with remaining cheese and fresh parsley (if desired).