Vegetable Roast with Fall Veggies
What a great way to combine the flavors of the fall veggies! This recipe's super simple to make but you won't regret it after you take your first bite!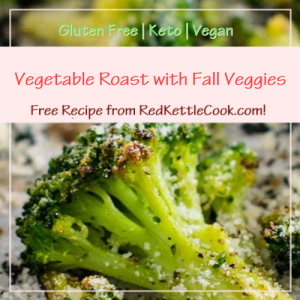 Yields 6 servings
Ingredients:
2 c. organic broccoli florets
1 lg. organic red bell pepper, cut into 1″ squares
1 c. organic turnip, cut into 1″ cubes
1/2 c. organic onion, diced
1/2 c. organic chicken broth (or water)
4 sprigs of fresh organic thyme (or 1/4 tsp. of organic thyme)
Sea salt & organic black pepper, to taste
Instructions:
Preheat oven to 425°F.
In a shallow but heavy roasting pan combine the broccoli, red bell pepper, turnip & onion.
Whisk together the vinegar & oil then pour over the veggies. Tossing all to coat.
Pour chicken broth (or water) around all the veggies.
Add the sprigs of thyme (or the organic thyme).
Roast the veggies for 30 minutes or until fork tender.
Remove from the oven then sprinkle with salt & pepper (to taste).
Serving size = 1/2 cup of veggies: Carbs 4g | Protein 2g